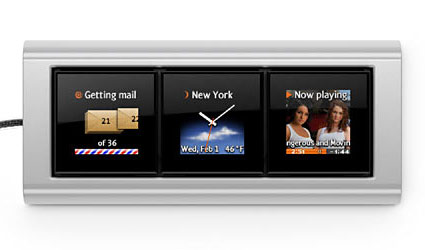 Optimus mini three is an auxiliary keyboard-informer with OLED technology. The three keys display static or animated images. Optimus mini three keyboard can be used as a toolbar, a remote control, an indicator or an RSS reader.
The keyboard may be arranged in both horizontal or vertical position—Configurator Software allows you to rotate the images accordingly.
Standard Optimus Configurator package includes a set of useful plugins. Third-party plugins appear every week—any programmer can connect Optimus mini to his computer via USB port and create his own plugins.
Technical specs
Dimensions

width

116 mm

depth

51.8 mm

height

18 mm

key

32×32 mm




Specs of each of the three screens

technology

OLED

size

20×20 mm

resolution

96×96 pixels

image update

3 frames per second

colors

65 536

viewing angle

160°
Taiwan, Province of China
Weight: 500 g
Designed by Artemy Lebedev
Take a virtual tour
and find out more details
Shipment and payment
We accept Visa and Mastercard as methods of payment. Purchases delivered by courier in Moscow, Russia can be paid for with cash.
We can ship almost anywhere in the world. Shipping costs and available delivery methods (courier, mail, or pick up) will be shown during checkout. Delivery time and cost will vary based on the chosen service, order weight and distance to the destination.
If you are not satisfied with your purchase for any reason, we'll take it back, no questions asked.