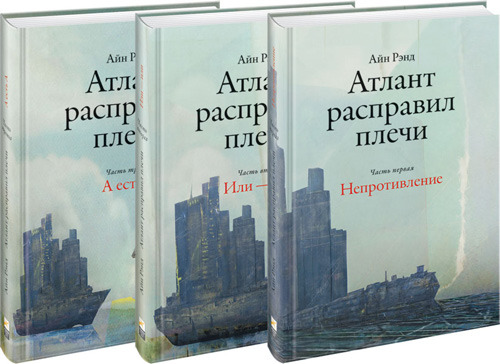 From the publisher:
Born in Russia, Ayn Rand became one of the most prominent American writers known worldwide. Her books are admired, disputed and worshipped. Rand's most famous novel, Atlas Shrugged, was second only to the Bible by the number of copies sold in America! The main idea of the book is the principle of free will, rationality and "morality of reasonable selfishness." They say that during the Vietnam War, Ayn Rand's texts were dropped from helicopters as propaganda. Once, Ronald Reagan himself knelt down before Ayn Rand, recognizing her great talent. In 2005, the 35th reissue of the book was published in the United States. This book is outside traditional literary categories. Serious literature lives long, bestsellers are short-lived. But Atlas Shrugged is the bestseller that will remain for centuries!
Weight: 1.85 kg
Alpina Publisher publishing house
1364 pages
Dimensions: 215×145×75 mm (8,5″×5,7″×3″)
ISBN 978-5-9614-4402-5
Shipment and payment
We accept Visa and Mastercard as methods of payment. Purchases delivered by courier in Moscow, Russia can be paid for with cash.
We can ship almost anywhere in the world. Shipping costs and available delivery methods (courier, mail, or pick up) will be shown during checkout. Delivery time and cost will vary based on the chosen service, order weight and distance to the destination.
If you are not satisfied with your purchase for any reason, we'll take it back, no questions asked.