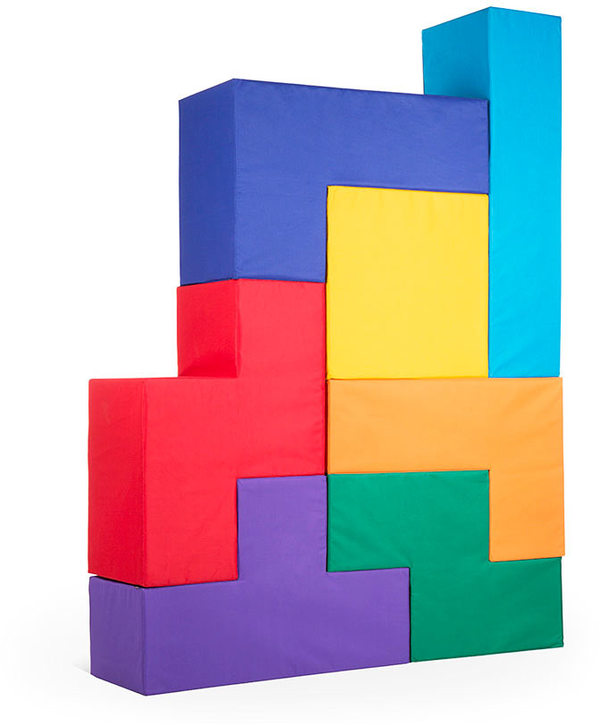 Pufus is a set of seven bright poufs in the shape of Tetris figures. Though Pufuses look large and massive, in reality they are easy to move and can be arranged in a variety of combinations.
The poufs are made of durable polyurethane foam and covered with brightly colored thick waterproof fabric which makes them ideal for use at home, in the office or outside: in parks, squares, summer cafés or country cottage gardens.
Pufuses are comfortable to sit and lie on and can be easily arranged in a solid wall for storage.
Weight: 24.4 kg
Pufus furniture is made to order only and will be delivered in two weeks after purchase.
Material: Oxford 420D waterproof fabric with PVC coating
Stuffing: durable polyurethane foam
Poufs dimensions:
Bar: 300×400×1200 mm (11,8″×15,7″×47,2″)

Square: 600×600×400 mm (23,6″×23,6″×15,7″)

Corner:  600×900×400 mm (23,6″×35,4″×15,7″), cutout sized 300×600×400 mm (11,8″×23,6″×15,7″)

T-shaped: 600×900×400 mm (23,6″×35,4″×15,7″), two cutouts sized 300×300×400 mm (11,8″×11,8″×15,7″)

Double corner: 600×900×400 mm (23,6″×35,4″×15,7″), two cutouts sized 300×300×400 mm (11,8″×11,8″×15,7″)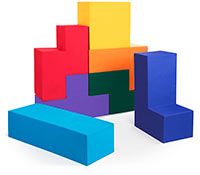 Production and delivery
This product is custom made and delivered within Russia only by the Delovye Linii and Vodovoz transport companies. Delivery costs vary according to destination and are determined separately. Our store managers can assist you with further information about terms and conditions over the phone 8 800 200-40-33 or +7 495 105-91-24 or by email store@artlebedev.ru