Sonicum is a 3-piece speaker subwoofer set. The speakers are flat panels with NXT technology designed to look like sound icons.
It can be connected to the line-out port of any audio source such as a CD player, a computer or a synthesizer.
External power adapter included.
Flat NXT speakers
The subwoofer has two adjustment knobs—volume (also on/off function) and bass control.
Product specifications
nominal impedance: 8 Ohm;
subwoofer nominal output power: 15 Watt, speakers—5 Watt each;
speakers maximum output power: 15 Watt;
subwoofer frequency range : 50–250 Hz, speakers—200 Hz–18 kHz;
signal-to-noise ratio: 80 dB.
China
Weight: 5.4 kg
Designer: Anton Gerasimenko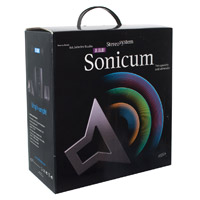 Shipment and payment
We accept Visa and Mastercard as methods of payment. Purchases delivered by courier in Moscow, Russia can be paid for with cash.
We can ship almost anywhere in the world. Shipping costs and available delivery methods (courier, mail, or pick up) will be shown during checkout. Delivery time and cost will vary based on the chosen service, order weight and distance to the destination.
If you are not satisfied with your purchase for any reason, we'll take it back, no questions asked.