Sonicum
Sonicum is a 3-piece speaker subwoofer set. The speakers are flat panels with NXT technology designed to look like sound icons.
It can be connected to the line-out port of any audio source such as a CD player, a computer or a synthesizer.
External power adapter included.
Flat NXT speakers
The subwoofer has two adjustment knobs—volume (also on/off function) and bass control.
Product specifications
nominal impedance: 8 Ohm;
subwoofer nominal output power: 15 Watt, speakers—5 Watt each;
speakers maximum output power: 15 Watt;
subwoofer frequency range : 50–250 Hz, speakers—200 Hz–18 kHz;
signal-to-noise ratio: 80 dB.
China
Weight: 5.4 kg
Designer: Anton Gerasimenko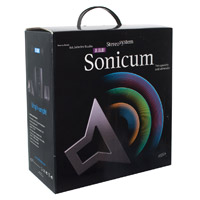 If you are not satisfied with your purchase for any reason, we'll take it back, no questions asked.