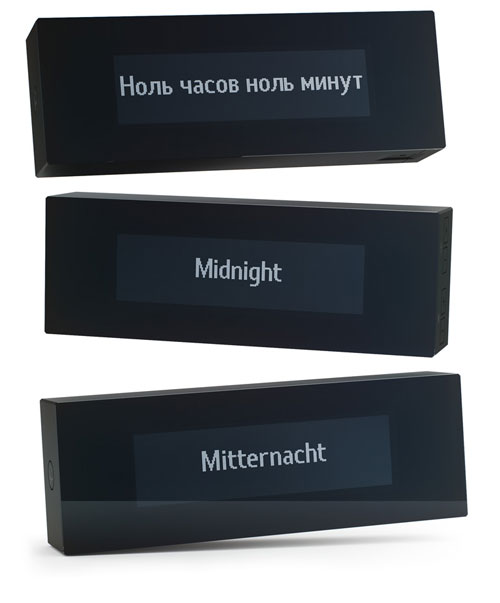 Verbarius is the first clock in the world that tells time the way people do. It has five preloaded languages: English, German, Spanish, French and Russian. You can easily upload any additional language you like—from Latin to Eskimoan—using the USB port.
The clock spells out time differently every minute. It's either forty-five minutes past four, or fifteen minutes to five, or four forty-five, or a quarter to five.
Verbarius requires a 110/220 V main power supply source.
In case of power failure the clock has a backup battery.
Taiwan, Province of China
Weight: 1.2 kg
Designed by Artemy Lebedev
Packaging dimensions: 22.2×27.2×8.5 cm
Clock dimensions: 7.9″×2.8″×1.7″ (20×7×4.2 cm)
Power supply cord, USB connector, CR2032 battery and 512MB SD сard included.
See portfolio for details
Shipment and payment
We accept Visa and Mastercard as methods of payment. Purchases delivered by courier in Moscow, Russia can be paid for with cash.
We can ship almost anywhere in the world. Shipping costs and available delivery methods (courier, mail, or pick up) will be shown during checkout. Delivery time and cost will vary based on the chosen service, order weight and distance to the destination.
If you are not satisfied with your purchase for any reason, we'll take it back, no questions asked.