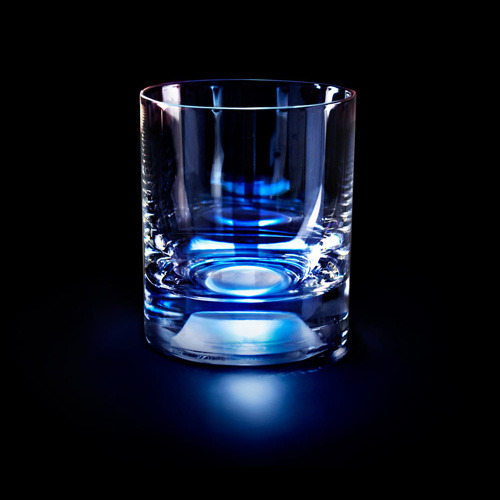 Luminarus has light-emitting diodes embedded in the bottom that light up automatically when you hold the glass in your hand.
Luminarus works for any drink.
Poland
Weight: 600 g
Produced by Glasshine
Capacity: 250 ml (8.45 oz)
Material: glass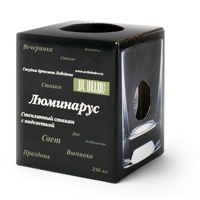 Before use, you should wash the glass and wipe it dry. The glass must be clean and dry or else the diodes will glow constantly. It is recommended to use a paper coaster. If the beverage is cold, Luminarus might collect condensate which will cause the diodes to light up.
Bright-glow useful life is at least 300 hours (more than three years with 15 minutes every day). After this, the diodes will still glow, only less brightly. And the very glasses are always good to use.
Handle carefully:
— use water no hotter than 65 ºС to wash (dishwasher safe);
— do not use in a microwave oven, induction or other furnaces;
— do not hit or put pressure on the bottom;
— do not drop, hit or shake the glass;
— store at 0 to 35 ºС above zero.
The battery may temporarily fail due to exceedingly high or low temperature. At temperatures below zero it works much worse, and enduring irregular conditions may result in shorter useful life.
Shipment and payment
We accept Visa and Mastercard as methods of payment. Purchases delivered by courier in Moscow, Russia can be paid for with cash.
We can ship almost anywhere in the world. Shipping costs and available delivery methods (courier, mail, or pick up) will be shown during checkout. Delivery time and cost will vary based on the chosen service, order weight and distance to the destination.
If you are not satisfied with your purchase for any reason, we'll take it back, no questions asked.