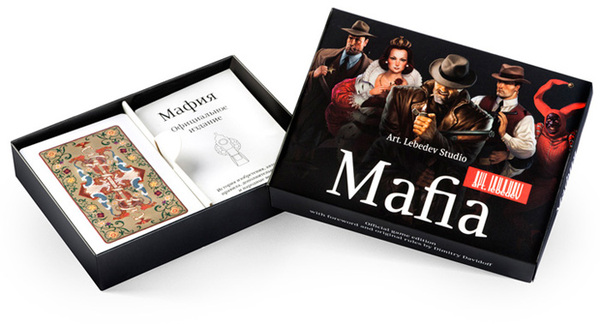 Mafia is an explosive mixture of psychology and a detective story, usually played with a deck of cards. Unlike many other card games, this one has a known year of creation—1986—and a known author—Dmitry Davidov, who, not surprisingly, was a psychology student at Moscow State University. The Mafia quickly gained a following and spread worldwide.
This official edition includes such nice extras as the story of its creation, a set of rules, roles from the author, and some popular variations. It's totally legal to use breaks between Mafia sessions to play anything from solitaire to poker with the same deck.
Weight: 200 g
Printed on laminated card stock
62-card deck includes 54 standard plus 8 special Mafia cards.
Dimensions: 5″×3.7″×1″ (12.8×9.5×2.5 cm)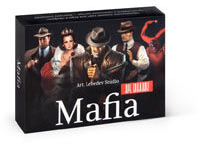 Shipment and payment
We accept Visa and Mastercard as methods of payment. Purchases delivered by courier in Moscow, Russia can be paid for with cash.
We can ship almost anywhere in the world. Shipping costs and available delivery methods (courier, mail, or pick up) will be shown during checkout. Delivery time and cost will vary based on the chosen service, order weight and distance to the destination.
If you are not satisfied with your purchase for any reason, we'll take it back, no questions asked.