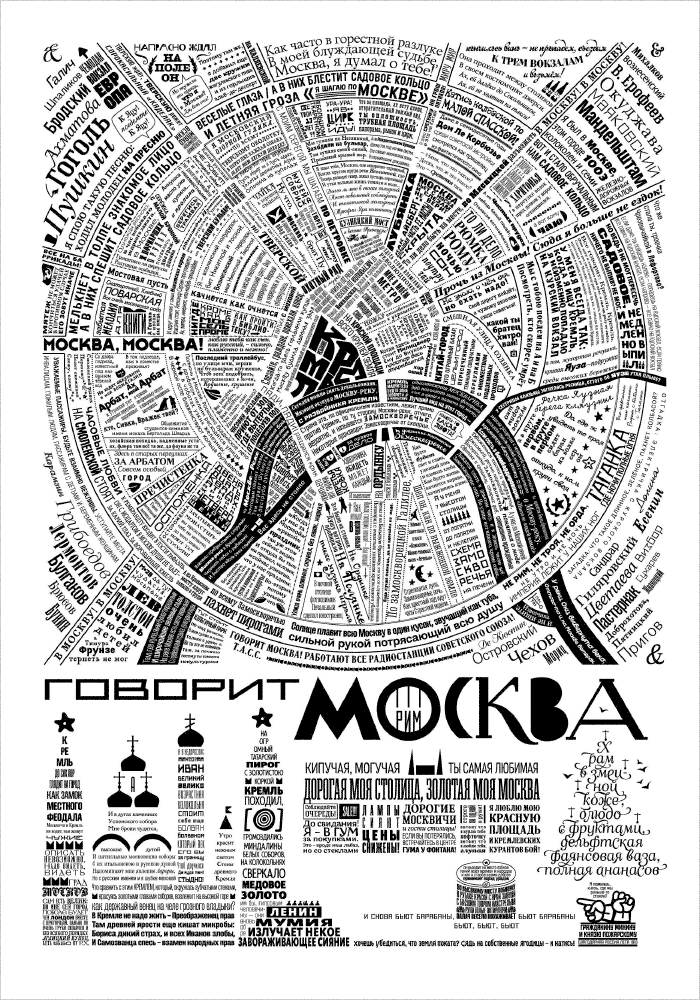 A map of Moscow with quotes by classic and modern authors, both Moscow residents and visitors. Where possible the quotes are placed at relevant location, accurate up to a house, block, neighborhood, parish, region. The quotes were written, decorated and placed on the map by the famous type designer Yuri Gordon.
The map is laid out as a newspaper page, with linear spacings and small type, and talks about the city realistically, mythologically, pathetically, ironically, sarcastically, optimistically, melancholically, but never cynically. The Kremlin is made of words by Mandelstam, Lermontov, Akhmatova, Cendrars, an anonymous 16th century English merchant, etc.
Weight: 180 g
Designer: Yuri Gordon
Material: coated cardboard
Dimensions: 70×50 cm (27,5″×19,7″)
Shipment and payment
We accept Visa and Mastercard as methods of payment. Purchases delivered by courier in Moscow, Russia can be paid for with cash.
We can ship almost anywhere in the world. Shipping costs and available delivery methods (courier, mail, or pick up) will be shown during checkout. Delivery time and cost will vary based on the chosen service, order weight and distance to the destination.
If you are not satisfied with your purchase for any reason, we'll take it back, no questions asked.