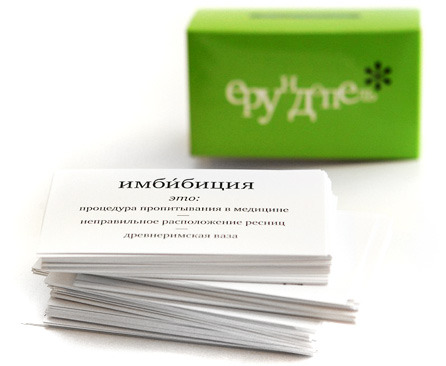 Erundopel is as nerdy as fun gets. It's the perfect game for a linguistically sensitive bunch; native or not it will propel your Russian to dizzying new heights. Explore the rarest of the Russian words, which you normally would not encounter due to their spare usage or specific spelling.
Some of these tricky specimens are spelled or pronounced in such a way, they scream to be a part of some cheerful game. You play Erundopel many different ways, for instance, choose one of three offered definitions for each word, aim for the correct one. The deck has 120 two-side cards with keys on the back of each. All words were hand-picked from modern dictionaries.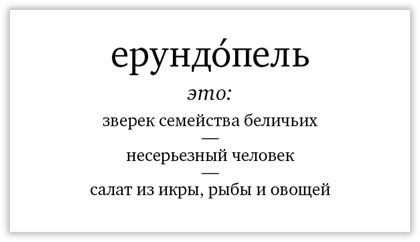 Face
Back
Russian Federation
Weight: 180 g
Publisher: Pagedown Studio
Package dimensions: 9×5×3.9 cm (3.5″×2″×1.5″)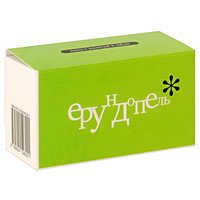 Shipment and payment
We accept Visa and Mastercard as methods of payment. Purchases delivered by courier in Moscow, Russia can be paid for with cash.
We can ship almost anywhere in the world. Shipping costs and available delivery methods (courier, mail, or pick up) will be shown during checkout. Delivery time and cost will vary based on the chosen service, order weight and distance to the destination.
If you are not satisfied with your purchase for any reason, we'll take it back, no questions asked.