The many fragments of Leonardo da Vinci's manuscripts that have survived to the present day cover an incredible variety of areas and show how far ahead of his time Leonardo was. This collection of his literary work has been carefully translated and compiled to bring out the enormous range of his interests and convey the versatility of his artistic and scientific genius.
Da Vinci's writing is complemented by reproductions of the sketches and drawings from his manuscripts, and exhaustive translators' commentary.
Weight: 1.8 kg
Hardcover
167 illustrations in two volumes
444 and 480 pages
Dimensions: 144×215 mm (5,7″×8,5″)
Press run: 3000
ISBN 978-5-98062-042-4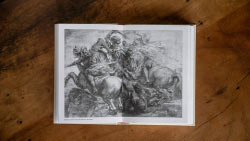 Shipment and payment
We accept Visa and Mastercard as methods of payment. Purchases delivered by courier in Moscow, Russia can be paid for with cash.
We can ship almost anywhere in the world. Shipping costs and available delivery methods (courier, mail, or pick up) will be shown during checkout. Delivery time and cost will vary based on the chosen service, order weight and distance to the destination.
If you are not satisfied with your purchase for any reason, we'll take it back, no questions asked.